Miranda Fernandez

Attorney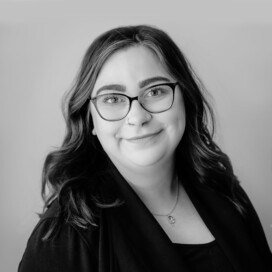 Bio: Miranda Fernandez is an attorney who practices Trust & Estate Litigation. Miranda earned her Bachelor's Degree from Arizona State University's online program through Starbucks, her paralegal certification from Cal State East Bay, and her Juris Doctorate from the University of the Pacific – McGeorge School of Law. Miranda is well acquainted with hard work which gives her the stamina to litigate for clients. She completed her bachelor's degree in 3 years while she worked full-time as a shift supervisor at Starbucks and went on to begin law school at 21.
Before finding her love for litigation, Miranda worked for a sole practitioner where she honed the essential skills and knowledge of trust administration, probate, conservatorships, and estate planning that now allows her to successfully litigate in this area. As a trust & estate litigator, Miranda leads beneficiaries and trustees through each step of the litigation process. From mediation to trials, she works to help her clients successfully resolve complex legal conflicts in the quickest and most cost-efficient way possible.
Miranda belongs to the Sacramento County Bar Association, the Women Lawyers Association, Placer County Bar Association, and Placer Women Lawyers.
In her free time, Miranda enjoys baking, reading, watching true crime documentaries, and spending time with her dog, Duke, and cat, Ollie.
Why I Became an Attorney:
At the age of five years old, I was diagnosed with a rare autoimmune disease that took away my ability to participate in "normal" childhood activities, such as riding bikes or running around on the playground. This led to my love of books and reading, a hobby I got from both of my parents. Through this challenge, I also learned the importance of advocating for oneself and seeking the right tools and knowledge. It's an exhilarating feeling to solve problems and experience success. That is what I love about litigation. Every day I get to use a vast library of specialized knowledge to help my clients overcome their obstacles.
Clients often come to us at one of the worst moments in their lives. Their loved ones may have died and things have gone horribly wrong. Some have been taken advantage of financially. Our clients know something needs to be done, but don't know what that is or how to accomplish it. It's rewarding to be able to use my knowledge and skills to navigate these ordeals and provide my clients with peace of mind.
Contact