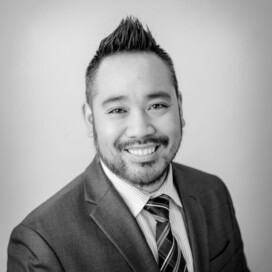 Bio:  A native of Orange County, California, Eric left the warm weather of Southern California to attend St. Mary's College where he earned a Bachelor of Arts degree in Integrated Liberal Studies and Philosophy as well as a Paralegal Certificate. Eric worked as a paralegal for several AM 100 Law Firms for five years while attempting to pursue his dream of becoming a rockstar.
Ultimately, Eric's desire to perform in a courtroom prevailed over his desire to be on stage so he hung up his bass guitar to attend the University of Pacific, McGeorge School of Law where he obtained his Juris Doctorate Degree.  Since graduating from law school, Eric has dedicated his legal career to becoming a litigator. Prior to joining the Law Offices of Daniel Hunt, Eric was a shareholder at a firm that focused on representing financial institutions, private companies, and landlords in all aspects of real estate disputes.
Eric also worked as a senior associate attorney for a well-renowned Sacramento Trial Attorney where he represented both plaintiffs and defendants in all aspects of employment litigation and general business disputes. Most recently, Eric worked for a well-recognized Sacramento Law Firm representing public entities and school districts in discrimination, constitutional law, Title IX, Title VII, and abuse cases. As an experienced litigator, Eric provides clients with aggressive but efficient representation.
In his free time, as a USSF "D" Licensed Coach, Eric coaches competitive club soccer. Eric also enjoys fishing and hunting in the Great Sacramento area; wine tasting all the wonderful wine regions in Northern California with his wife; spending quality time with his two young boys; and every now and then he'll still pick up a bass guitar for a jam session in his garage with other musicians.
Why I Became an Attorney:
I decided to become an attorney when, at the age of 5, my mom told me, "Be a doctor, don't be an attorney!" For some reason, my mom did not have a good opinion of attorneys. In my typical argumentative fashion, I wanted to prove to her the good that attorneys could do for society. I became an attorney to serve my community. Being an attorney is not just a "job" but a passion.  I am passionate about standing up for my clients' rights and ensuring that the law is applied equitably.
Contact