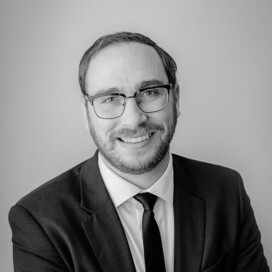 Bio: Uri Grant is an attorney who practices Trust & Estate Litigation. Uri Grant was born in Israel and came to the United States in 2002. He is fluent in both English and Russian. Uri ultimately moved to the Sacramento area and went to Folsom High School before earning his undergraduate degree in psychology from CSU Sacramento. Uri then pursued and earned a Juris Doctorate with distinction from McGeorge School of Law.
Following graduation, Uri became a deputy district attorney who handled all facets of criminal prosecution such as domestic violence, driving under the influence, and narcotic cases. Uri is excited to return to Folsom to advocate for the community that helped mold him.
Uri is a member of the Sacramento County Bar Association and the El Dorado County Bar Association.
In his spare time, Uri enjoys spending time with his Chow Chow, trying out new restaurants with his fiancée, and listening to true crime podcasts.
Why I Became an Attorney:
"Being an attorney merges two of my passions: helping people and problem-solving. I looked for a path that would allow me to do both by becoming a community-driven advocate. As a litigator, my journey is fueled by helping people at their toughest times by focusing on treating them with empathy, dignity, and respect. Seeing people put their trust in me and allowing me to assist them at their most difficult times continuously solidifies that I made the right decision."
Contact