5 Estate Planning Moves Every Engaged Couple Should Consider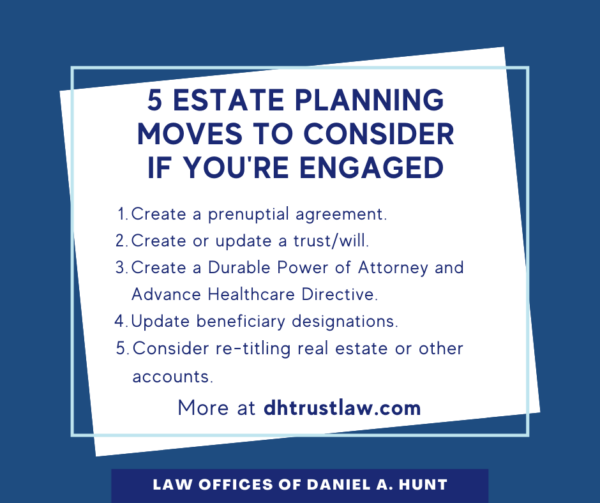 Estate planning becomes even more important when a couple gets engaged. Since California does not recognize "common law marriages," being engaged or even living with a partner for many years does not grant you rights to their property if you pass away, or vice versa. Your future spouse also lacks the power to make medical or financial decisions on your behalf if you become incapacitated. Here are five estate planning moves that every engaged couple should consider.
#1 Create a prenuptial agreement.
A prenuptial agreement helps engaged couples create a clear picture of their financial future. This document lays out each partner's assets and debts prior to the marriage and what will happen to them if the marriage ends. 
In the past, prenups were thought of as a necessity only when the engaged couple had vastly different economic situations. But today, more and more California couples are choosing to prepare for their financial future with a prenup. If you're wondering if a premarital agreement is right for you, check out our previous blog post on this topic.
#2 Create or update a revocable living trust and/or will. 
If you've already created a will or trust, you'll want to update those documents to reflect your prenuptial agreement. If you don't have an estate plan in place already, you'll want to create a simple will at the bare minimum to select an executor and ensure that your property will be distributed as you desire after you pass. 
If you plan to keep some or all of your assets as separate property after marriage, you may wish to create a single settlor trust and transfer those assets into it. A single settlor trust is also a popular option for those who have children from a previous relationship and want to ensure their kids receive an inheritance. 
Creating a prenup and an estate plan often go hand in hand. That's why our law firm offers a convenient prenuptial package which includes a prenuptial agreement PLUS a new single settlor trust or restatement of trust. Planning a wedding is stressful enough, so we love helping newly individuals partners kill two birds with one stone.
#3 Create a Durable Power of Attorney and Advance Healthcare Directive.
If you were to become incapacitated due to illness or injury, who would you want to make medical decisions on your behalf? An Advance Healthcare Directive allows you to designate your future spouse or another trusted person to fill this role. Your Advance Directive also allows you to express your wishes for end-of-life care and grants your agent access to your medical records so they can make data-based decisions on your behalf. 
If you became incapacitated, who would you want to pay your bills and handle your finances? A Durable Power of Attorney allows you to designate an agent to do these tasks. 
Without these critical documents, an expensive and time-consuming conservatorship may be necessary in order to grant these powers. 
#4 Update beneficiary designations. 
Not all assets can be transferred into a trust or distributed by a will. For example, retirement accounts, pensions, and life insurance policies must be held by an individual- not a trust. Upon your death, these assets will be distributed to the person you name as the beneficiary of that account or policy.
Once you become engaged, be sure to review the beneficiary designations on any life insurance, pensions, or retirement accounts you may own. If you wish to name your future spouse as the beneficiary or make any other changes, contact the company and request a Change of Beneficiary Form.
#5 Consider re-titling real estate or other accounts.
If you already own real estate when you get engaged, consider whether you'd like to add your partner to the title. Joint tenancy with the right of survivorship offers both spouses rights to the property. That means that if you were to pass away, your spouse would have the "right of survivorship", meaning they would automatically inherit the home. The same is true for jointly owned bank accounts if you choose to add a spouse to the title. 
Note that if you create a trust, you may wish for the real estate and bank accounts to be titled in your trust instead. Consult an experienced estate planning attorney for help executing your wishes.
If you have any questions regarding estate planning for engaged couples, feel free to contact our office.
Law Offices of Daniel A. Hunt
The Law Offices of Daniel A. Hunt is a California law firm specializing in Estate Planning; Trust Administration & Litigation; Probate; and Conservatorships. We've helped over 10,000 clients find peace of mind. We serve clients throughout the greater Sacramento region and the state of California.