What's a Certification of Trust?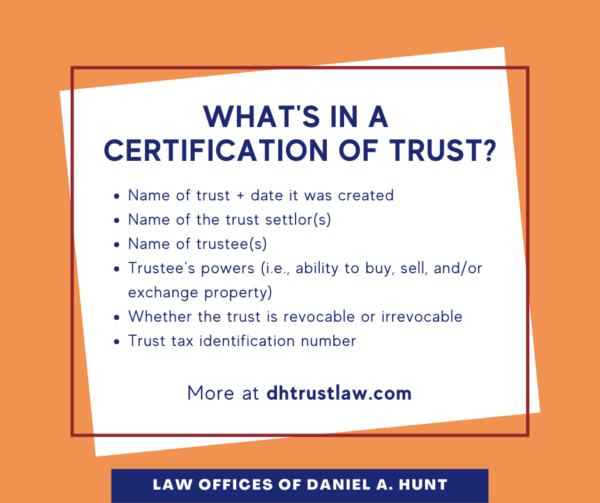 After you create a revocable living trust, you'll need to fund your trust by transferring your assets into it. One useful tool in completing this process is a legal document called a Certification of Trust, also known as an "abstract of trust".
What's a Certification of Trust?
A Certification of Trust is a short summary of your revocable living trust that can be given to financial institutions or other entities. This document includes key information about the trust instrument, such as the trust name and name of the trustee(s). 
A Certification of Trust should be drafted by an estate planning attorney and signed in front of a Notary Public. If you purchase a complete estate planning package, a Certification of Trust should be included.
The Certification of Trust does not reveal confidential information about your Estate Plan like what assets you own, or who will inherit those assets after your death. Using a Certification of Trust allows you to share only the necessary and relevant information with financial institutions and keeps the rest of your information private.
What Information is Included 
The following information is typically included in a Certification of Trust:
The name of the trust and the date it was created

Name of the trust settlor(s) 

Name of the trustee(s)

Trustee's powers (i.e.ability to buy, sell, and/or exchange property)

Whether the trust is revocable or irrevocable

Trust tax identification number (the grantor's social security number if they're alive or a special number issued by the IRS after they've passed called an EIN)
How to Use a Certification of Trust
After you create a revocable living trust, you'll want to transfer assets into that trust. You can either provide financial institutions with a physical copy in person or mail/email an electronic scanned copy.
If you choose to mail or email a copy of this document, you might write something like this:
"Dear [Institution Name]:                           
Attached please find a copy of the Certification of Trust of the recently created [Trust Name].
Please make the appropriate asset title transfers to those assets which you control on our behalf such that title is held in the following manner:
"[Grantor Names], as TRUSTEES of [Trust Name]." 
If you require additional transfer applications or instructions, please mail them to me at [Your Address].
If you have any questions regarding this request, you may direct them to our attorney at [Attorney Address].
Please confirm with me as soon as possible that you have completed the requested title transfer."
Original vs. Copy
You may be wondering whether you can use a copy of your Certification of Trust or if you need to present the original document. There is no requirement to show the original document; a copy works just as well. That being said, our office typically provides the original document to our clients so they can make as many copies as they need to make when dealing with financial institutions. 
What if a Bank Won't Accept It?
Occasionally we have heard of bank employees refusing to accept a Certification of Trust and demanding that a client show them their full revocable living trust. This is usually either an individual employee being unaware of California law or a financial institution following policies that are not in compliance with California law.
California law states that anyone who refuses to accept a valid Certification of Trust and demands to see the whole trust document may be liable for any monetary loss suffered by the trust grantor. If the employee is unaware of this law, you might consider bringing it to their attention. 
If you have any questions about this topic, feel free to contact our office.
Law Offices of Daniel A. Hunt
The Law Offices of Daniel A. Hunt is a California law firm specializing in Estate Planning; Trust Administration & Litigation; Probate; and Conservatorships. We've helped over 10,000 clients find peace of mind. We serve clients throughout the greater Sacramento region and the state of California.