Trust & Estate Attorney Red Flags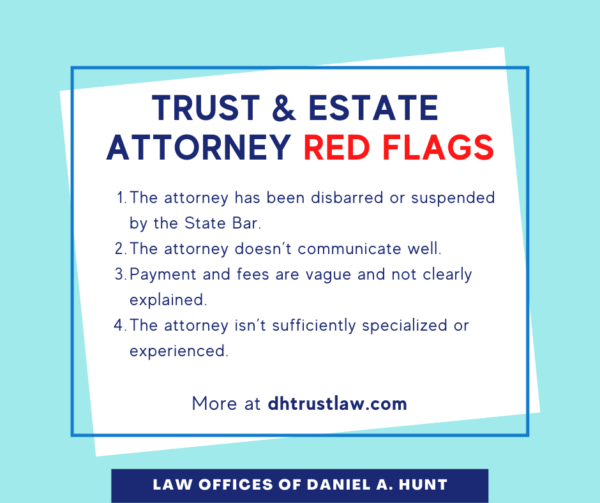 If you're looking for an estate planner, you should know that not all trust and estate attorneys are created equal. Just as important as knowing what to look for when hiring an estate planning attorney is knowing what and whom to avoid. Here are four trust and estate attorney red flags to watch for.
#1: The attorney has been disbarred or suspended by the State Bar. 
The California State Bar investigates client complaints and disciplines attorneys who are convicted of violating the rules of ethics. California attorneys who have acted irresponsibly or incompetently may be temporarily suspended or permanently disbarred and no longer be eligible to practice law in the state.
In 2020, 79 California attorneys were disbarred, and another 114 were suspended. Some of the more common reasons for attorney discipline include:
Failure to perform with competence (Rule 1.1)

Lack of reasonable communication (B&P Code § 6068(m), Rule 1.4)

Inappropriate termination of the attorney-client relationship (Rule 1.16)

Conflicts of interest (Rules 1.7, 1.8, 1.9)

Misuse of client trust accounts (Rule 1.15)

Unauthorized practice of law (B&P Code § 6125, Rule 5.5)
Always look up the attorney on the California State Bar website before selecting your trust and estate attorney, or better yet, before scheduling an initial consultation.
Be aware that unfounded claims do occur. The fact that a client complained and the State Bar investigated the matter does not automatically indicate wrongdoing. But pay attention to the State Bar's findings. Previous suspension or disbarment is a definite red flag. 
#2: The attorney doesn't communicate well.  
As you saw in #1, "lack of reasonable communication" is a valid and common client complaint. The term "reasonable" is open to interpretation, but in general, your attorney (or their staff) should keep you as the client up-to-date on relevant matters and respond to your questions.
If your attorney is unresponsive to questions and you find yourself waiting days, weeks, or even months for answers to questions, you may want to consider another option. 
Another key part of being a strong communicator is being able to explain complex legal matters in a way that's easily understood. If your attorney can't translate the "legalese" in your estate plan into laymen's terms, they may not be the right fit for you. 
#3: Payment and fees are vague and not clearly explained.
Many trust attorneys offer to draft estate planning documents for a flat-rate fee, as opposed to an hourly rate based on their time. But however they charge for their work, the cost should be quoted clearly at the beginning of the process. You should understand at the outset what you're paying for and what you'll receive in exchange. 
Another price-related red flag could be if an attorney charges an exorbitant amount in comparison to competitors for a similar product. While price often varies based on the attorney's location, experience, and skill, the price shouldn't be astronomically higher than others within the same area, field of expertise, and experience level. 
We have seen some attorneys charge $20,000 for a poorly drafted estate plan, so price gouging does sometimes occur. If you feel uncomfortable with the stated price, you may wish to get a second opinion. You can also visit our firm's pricing page to get a feel for some general starting prices on California estate planning services.
#4: The attorney isn't sufficiently specialized or experienced. 
Estate planning is a specialized niche within the legal industry. If you had cancer, you'd probably choose to see an oncologist instead of a general practitioner. Similarly, you should seek out an experienced estate planning attorney when creating legal documents such as a living trust or power of attorney rather than a Jack-of-All-Trades-style lawyer who dabbles in many kinds of law.
Look for an experienced estate planning lawyer who has worked with many kinds of clients and designed a variety of estate plans in the past. They can draw on that experience to create an estate plan that's custom-fit to your wishes. 
Consider it a bonus if the attorney also has experience in trust administration and/or litigation. Watching how estate plans play out after death often demonstrates how to avoid problems in the first place.
If your intuition tells you something doesn't feel right about a trust & estate lawyer, it may be worth investigating to see if it might be a red flag. If you have any questions on this topic, feel free to contact our office for legal advice.
Law Offices of Daniel A. Hunt
The Law Offices of Daniel A. Hunt is a California law firm specializing in Estate Planning; Trust Administration & Litigation; Probate; and Conservatorships. We've helped over 10,000 clients find peace of mind. We serve clients throughout the greater Sacramento region and the state of California.