Understanding the Timing of a Trust & Estate Litigation Case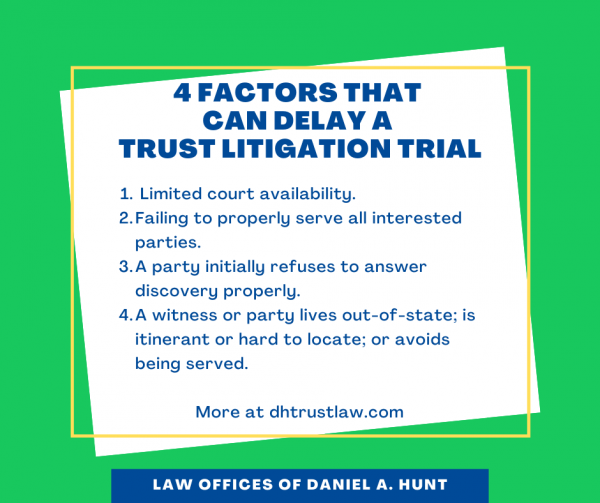 For the uninitiated, understanding the timing of a trust & estate litigation case can be challenging. But before your trial begins, it will be useful to establish realistic time frames for each step of the process, including court hearings, discovery, potential delays that may occur, and when you can expect to actually have your case heard. This will help you see the big picture when it comes to your trust & estate litigation case.
Before the Trial
All trust & estate litigation trials are preceded by several preliminary court hearings. After the Petitioner files their petition with the court, the court will give a hearing date for the matter to be heard. This date must be at least 30 days after the date the petition was filed but is often set for 45-90 days later (depending on court availability).
All interested parties have the right to appear at that hearing and object to the petition. If a party does come to the initial hearing and orally objects to the petition, then the court usually grants additional time (usually 60 days or so) for them to prepare and file a written objection. 
Next, the court allows time for the parties to conduct discovery. This process can take another 3-6 months or more, depending on the complexity of the case. 
Once it becomes clear that the parties will be unable to reach a resolution on their own, the court will either set a date for the trial or hold a  "trial setting conference" where a trial date is selected. In total, it can take from 6-12 months before you receive a trial date. In the time of COVID, this can actually take much longer, depending on the county's criminal proceedings which take precedence over civil matters. 
Finally, in almost every county in California, you will be required to participate in a mandatory settlement conference prior to your trial.
Timing of Your Trust & Estate Litigation Trial
In a previous post, we explained the difference between a jury trial and a court/bench trial. As we explained, trust and estate litigation trials are bench trials with the trier of fact being a judge, not a jury. 
Jury trials tend to proceed nonstop from start to finish, out of sensitivity to the time constraints on the jurors involved. Court trials operate a little differently, and you may experience less continuity due to the court's schedule. Court trials are frequently broken up into multiple shorter court sessions over the course of several days or even weeks. If a department only hears trials on Friday afternoons, for example, it may take several weeks to complete your trial. 
Potential Delays from the Court
Many more issues may arise during your case to cause delays. As mentioned, courts will give preference to a criminal trial. That's because the accused in criminal cases have a constitutional right to a speedy trial, while civil litigants do not have the same right. 
The court will want to have a narrow scope of what issues are being tried, so this results in multiple hearings and motions typically before a matter is ready for trial. With so many litigants requesting trial dates, but many fewer actually using them, it results in a trial calendar that is constantly in flux. 
The court procedures can seem taxing and the whole process can feel frustratingly slow to the parties involved. Keep in mind that the California Rules of Court exist to create a fair playing field for both sides. Both the Petitioner and Respondent receive equal opportunity to present their evidence and argue their points on the issues at hand. That way, when the judge makes a final decision, no one can claim that the ruling was hasty or unfair.
Potential Delays from the Parties + Witnesses
Besides the court system, the involved parties and third-party witnesses may cause the process to be delayed. For example, if one party refuses to answer discovery properly, then the other party must file discovery motions in order to ask the court to compel the other party to divulge the requested information. 
Typically, parties are required to resolve any discovery motions before trial. All discovery needs to be completed 30 days before the original trial date. Even if the trial is moved, discovery is to be completed 30 days before the original date set for trial. 
Taking depositions from third-party witnesses can also cause delays. Take, for example, a witness who is hiding out and trying to avoid being served a subpoena, or a witness who is itinerant and lacks a permanent address. It takes extra time to track down and serve these kinds of witnesses.
If a witness or a party lives outside of California, then you'll need to take extra steps to arrange to take their deposition. Travel, lodging, transportation, and scheduling a court reporter from another jurisdiction to attend the deposition all require extra time and planning. 
Total Timing of a Trust & Estate Litigation Case
If you were thinking that your California trust & estate litigation case would be resolved in a few months, you may want to reconsider that notion. From start to finish, a more realistic time frame would be a minimum of a year and possibly 1.5-3 years before a resolution is reached if a trial is required. 
It's easy to understand why many clients use mediation as a quicker alternative to a trial. While mediation involves a great deal of compromise, mediation follows a more predictable time frame compared with a trial which could drag on for years.
When a settlement between two parties does not prove to be possible and a case does go to trial, mindset is everything. The best advice we can offer is to cultivate patience and flexibility and let the process unfold.
If you have any questions about trust or estate litigation, feel free to contact our law firm.
Law Offices of Daniel A. Hunt
The Law Offices of Daniel A. Hunt is a California law firm specializing in Estate Planning; Trust Administration & Litigation; Probate; and Conservatorships. We've helped over 10,000 clients find peace of mind. We serve clients throughout the greater Sacramento region and the state of California.