What is a Mandatory Settlement Conference?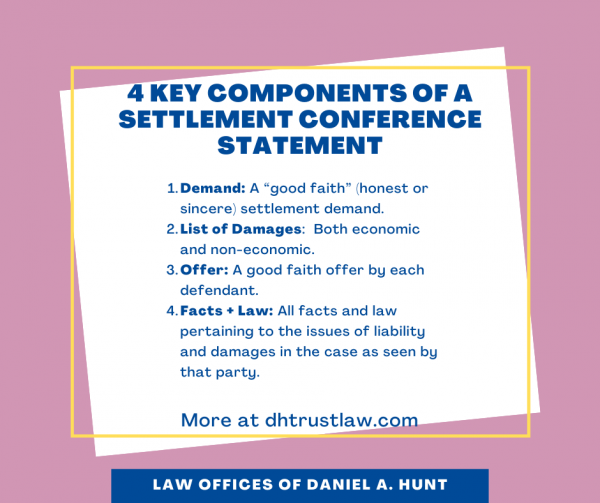 If you're involved in a trust litigation matter, you may be surprised to discover that before a trial, you must first attend a court-ordered Mandatory Settlement Conference (MSC). Rest assured that an MSC is a normal part of the trust and estate litigation process. Before your MSC, you should understand the purpose of a Mandatory Settlement Conference, what to expect, and how it can help both parties.
What is the Purpose of a Mandatory Settlement Conference?
A Mandatory Settlement Conference is an opportunity for all the parties involved in a dispute to come together to try to resolve the issue without a trial. Trials are long, expensive, and emotionally taxing. It's in the best interest of everyone involved to avoid a trial if possible. An MSC is one last chance to try to find a solution without a trial.
California Rules for Mandatory Settlement Conferences
Not all states require an MSC prior to trial, but California is one state that does. This helps to reduce the strain on the overburdened court system in our state. California Rule of Court 3.1380 lays out the requirements for an MSC. Here's a summary:
Who Sets the Conference
The rule allows for the court to order one or more MSCs. Any party can also request one or more MSCs.
Who Attends the Conference
The attorneys, both parties, and any person with full authority to settle the case must personally attend the conference, "unless excused by the court for good cause." 
Restrictions on MSCs
The rule prohibits the court from appointing a person serving as a mediator in the same action to conduct the MSC or to appoint a person to conduct mediation.  
Settlement Conference Statement
No less than 5 days before the initial date for the settlement conference, both parties must submit a Settlement Conference Statement. This statement must include these 4 components at a minimum:
Demand:

A "good faith" (honest or sincere) settlement demand.

List of Damages:

An itemized list of damages, both economic and non-economic (such as emotional anguish, health issues due to stress, and so on).

Offer:

A good faith offer by each defendant.

Facts + Law:

A statement identifying and discussing in detail all facts and law pertaining to the issues of liability and damages involved in the case as seen by that party. 
Local rules may impose additional requirements on the Settlement Conference Statement; these will vary by county.
Mandatory Settlement Conference Hearing
On the day of your Mandatory Settlement Conference, both parties will attend a hearing at the courthouse presided over by a judge. It may be the judge managing the case to this point or a temporary judge. The conference is generally shorter than mediation and less likely to produce an agreement. A judge will be less forceful than a mediator at attempting to resolve the case. But if the parties were already close to agreeing, it may still be possible to reach one at this stage.
Each judge will have their own method of conducting the conference, but most will discuss:
The facts on which all parties agree.

Any facts on which they disagree.

What each party needs and wants to settle the case. 
Then the judge and the parties will try to find a solution that will be acceptable to both sides. The judge does not have the authority to make binding judgments but rather serves as a facilitator of the negotiation.
If the parties are able to find a solution, then a settlement agreement can be written (a court reporter is always handy to have ready) and signed by both parties, then submitted to the judge who can enter it as an order. If the parties do not reach an agreement, the case will proceed to a trial. 
Cost
There is no cost for the settlement conference itself, but both parties will need to pay their attorneys for their time in preparing for and attending the conference.
A Mandatory Settlement Conference is a key step in the trial process which allows both sides one last chance to reach a compromise outside of a court trial. If you have any questions about Mandatory Settlement Conferences or trust litigation, feel free to contact our office.
Law Offices of Daniel A. Hunt
The Law Offices of Daniel A. Hunt is a California law firm specializing in Estate Planning; Trust Administration & Litigation; Probate; and Conservatorships. We've helped over 10,000 clients find peace of mind. We serve clients throughout the greater Sacramento region and the state of California.