How to Maximize Your Legal Retainer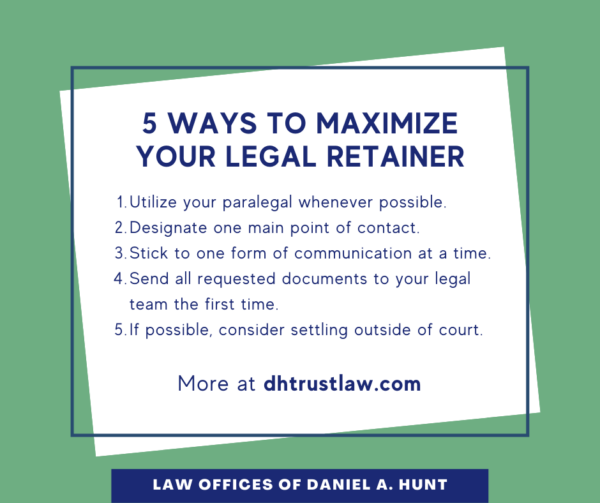 If it's your first time working with an attorney on an hourly basis, it can take some getting used to the way legal fees are billed. Remember: when you hire a law firm, you pay for your legal team's time and knowledge. The time your legal team spends on emails, phone calls, and legal research can quickly deplete your legal retainer. Here are five tips to help you maximize your legal retainer.
#1: Utilize your paralegal wherever possible.
As you may have noticed when you signed your retainer agreement, every member of your legal team is billed at an hourly rate. Attorneys are the most expensive members of your legal team to use, often costing several hundred dollars per hour. 
There are certain tasks that an attorney must do; for example, an attorney must appear in court on your behalf. However, there are many other tasks that can easily be done by a paralegal or support staff member. At the Law Offices of Daniel Hunt, our paralegals are intimately acquainted with the details of the matters to which they're assigned. The cost to have a paralegal work on your case is a fraction of the cost of an attorney. 
Try to utilize your paralegal for communication as often as possible to maximize your legal retainer. Your attorney will always oversee your matter and check in from time to time. But much of the day-to-day correspondence can be handled more cost-effectively by a paralegal.
#2: Designate one main point of contact.
Sometimes multiple individuals are involved in a legal matter. For example, a trust may name multiple co-trustees, or a beneficiary may want to include their spouse in their legal affairs. Usually, the best plan is to designate one main point of contact who can communicate information to any other parties involved. This saves money since the attorney will only need to write one letter or make one call instead of performing every action multiple times (and charging for each one).
#3: Stick to one form of communication at a time.
Another point to consider is the method of communication. When you feel anxious, it's tempting to call your attorney, and if you don't hear back immediately, you may also email or text until you get a response. Remember – you are paying for their time! You will likely be charged multiple times if you keep contacting your legal team in multiple different formats.
To reduce attorney fees, aim to stick to one form of communication at a time. Keep your questions and messages direct and to the point. Our brand promise is to return client messages within 24 hours. If we are falling short of that standard, please contact our Director of Client Experience, Stacy Grow. 
#4: Send requested items to your legal team- the first time.
In contested trust and estate matters, you will often need to provide your legal team with supporting documents such as estate planning documents, receipts for expenses, and correspondence with opposing parties and/or their legal counsel.
When your legal team requests this information, be sure to deliver it promptly and include everything they requested. This will save you money because you won't be charged for the follow-up reminders from the staff. Complying with such requests in a timely fashion helps you maximize your retainer.
#5: If possible, consider settling outside of court.
The fact is, a court trial is the most expensive route available in a contested matter. Many clients opt to try mediation before going to trial. There are times when a trial is appropriate. But if a settlement can be reached in mediation or any time prior to a court trial, this will save money for all parties involved.
If you have any questions about maximizing your legal retainer, feel free to contact our office.
Law Offices of Daniel A. Hunt
The Law Offices of Daniel A. Hunt is a California law firm specializing in Estate Planning; Trust Administration & Litigation; Probate; and Conservatorships. We've helped over 10,000 clients find peace of mind. We serve clients throughout the greater Sacramento region and the state of California.