What is a Quitclaim Deed?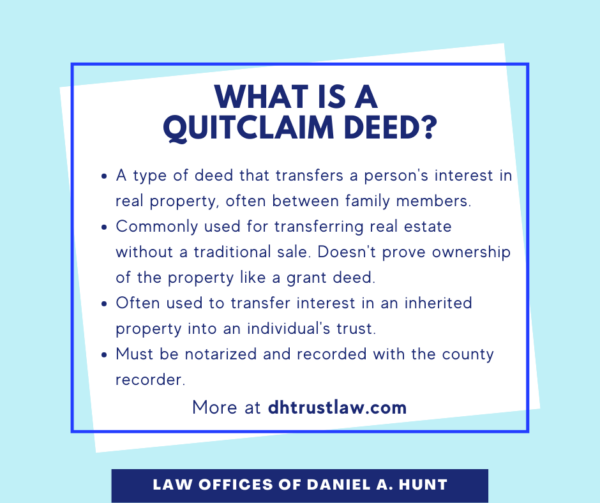 One of the main types of deeds in California is called a quitclaim deed. What is a quitclaim deed? It's a way to transfer your interest in that property to your trust or another person without a traditional sale. 
Defining a Quitclaim Deed
A deed is a legal instrument that transfers legal title of real estate, often from one person to another. A quitclaim deed releases or transfers a person's interest in a piece of real property, often between family members. 
Unlike a grant deed, a quitclaim deed doesn't guarantee that the person relinquishing their claim to the property had valid ownership. But it does prevent that person from later claiming they have an interest in the property.
When to Use a Quitclaim Deed
Quitclaim deeds are most commonly used for transferring real estate without a traditional sale. Quitclaim deeds are not used for real estate sales, because the new owner receives no guarantees about the validity of the transferred title. 
Here are a few common examples of when a quitclaim deed would be appropriate:
Transferring a person's share of a property they inherited along with their siblings into their living trust.

Transferring property between family members, such as parents transferring a home to their children.

Adding a new spouse's name to a property that was previously held as one spouse's separate property. 

Removing an ex-spouse's name from a property after a divorce, when one spouse is keeping the home.

Clearing property title when someone else may have an ownership right, but is willing to release their potential claim. 
How to Create a Quitclaim Deed
If you think a quitclaim deed may be appropriate for you, consult an estate planning attorney. They can draft a quitclaim deed for you transferring ownership of the real property from the grantor (or property owner) to the grantee (person receiving the interest).  You should sign the deed in front of a notary public. 
Preliminary Change of Ownership Report
In California, there is another key document that needs to be signed and filed with the county recorder along with your trust transfer deed: a Preliminary Change of Ownership Report (or PCOR). Your attorney should prepare a PCOR when they draft your deed.
A PCOR notifies the county assessor's office of the transfer and informs them that although a transfer is occurring, no actual sale has occurred. This lets the assessor know that even if the value of your property has increased, they do not need to reassess your property taxes. 
Recording Your Deed
After you sign your deed, it must be recorded with the county recorder in the county where the property is located. How long does the recording process take? The time varies by county. In Sacramento County, it usually takes four to six weeks. In other California counties, it may take several months.
Once the deed has been recorded, the county recorder usually mails the original deed back to either the homeowner or the attorney who prepared the deed. 
Does a Quitclaim Deed Change the Mortgage?
One common question we hear about quitclaim deeds is whether they change the property's mortgage. The answer is no. Even if you transfer your property by quitclaim deed to another person or a trust, you are still responsible for paying the mortgage. This doesn't mean the grantee can't make mortgage payments if mutually agreed upon by both parties. It simply means that the grantor is still responsible for the mortgage debt.
If you have any questions about this topic or you need help drafting a quitclaim deed, feel free to contact our law firm.
Law Offices of Daniel A. Hunt
The Law Offices of Daniel A. Hunt is a California law firm specializing in Estate Planning; Trust Administration & Litigation; Probate; and Conservatorships. We've helped over 10,000 clients find peace of mind. We serve clients throughout the greater Sacramento region and the state of California.