What is a No-Contest Clause in California?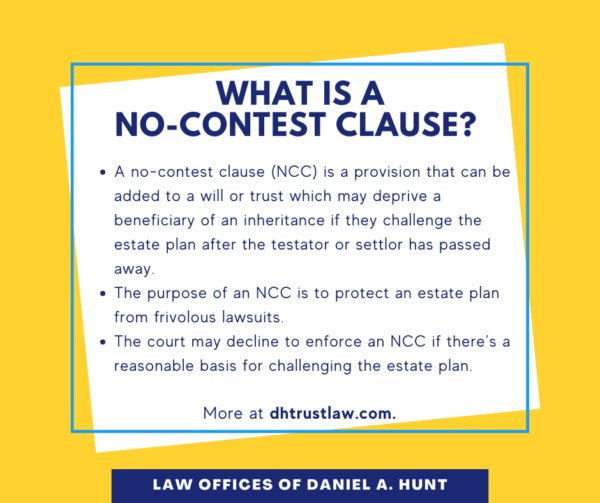 If you're considering creating an estate plan, you may be wondering whether you should incorporate a no-contest clause. If you're a beneficiary who is thinking about contesting an estate plan, you need to consider whether the trust or will contains a no-contest clause and how that may impact your case. What is a no-contest clause in California? Here's an overview.
What is a No-Contest Clause?
A no-contest clause, also known as an "in terrorem clause", is a provision that can be added to a will or trust which may deprive a beneficiary of an inheritance if they challenge the estate plan after the testator or settlor has passed away.
Benefits and Limitations of a No-Contest Clause
Many estate plans contain a no-contest clause to protect from frivolous challenges in court. Estate litigation is time-consuming, expensive, and stressful. No-contest clauses can be a helpful tool for avoiding these types of situations.
But no contest clauses have limitations as well. If there is a mistake in the estate plan, the beneficiaries would need to risk being disinherited to correct the error. 
In addition, no-contest clauses only apply to beneficiaries, so they can't protect your will or trust from all challenges. Individuals who are disinherited or not named in the estate plan could still bring a challenge and would lose nothing by doing so.
When Are No-Contest Clauses Enforceable?
You might be wondering if no-contest clauses are actually enforceable. Under current California law, no-contest clauses are enforceable under the following circumstances:
A direct contest brought without probable cause.

Challenging a transfer of property on the grounds that it was not the transferor's property at the time of the transfer (which is called a "forced election").

Filing or prosecuting a creditor's claim.
When Are No-Contest Clauses Not Enforceable?
In California, there's a probable cause exception to no-contest clauses. The court may decline to enforce the no-contest clause if there's a reasonable basis for challenging the estate plan. The probable cause exemption helps to protect legitimate challenges to wills and trusts. 
Examples of probable cause include evidence that the estate plan is invalid, evidence of undue influence, or evidence of trustee or executor wrongdoing. If you are unsure about the strength of your case and whether you have probable cause, seek the counsel of an experienced trust and estate litigation attorney.
Consult an Attorney
Whether you're considering including a no-contest clause in your estate plan or disputing a will or trust, you should seek the counsel of an experienced trust and estate attorney. They can guide you to the best option for your specific circumstances.
If you have any questions about California no-contest clauses, feel free to contact our law firm.
Law Offices of Daniel A. Hunt
The Law Offices of Daniel A. Hunt is a California law firm specializing in Estate Planning; Trust Administration & Litigation; Probate; and Conservatorships. We've helped over 10,000 clients find peace of mind. We serve clients throughout the greater Sacramento region and the state of California.