What Does a Probate Lawyer Do?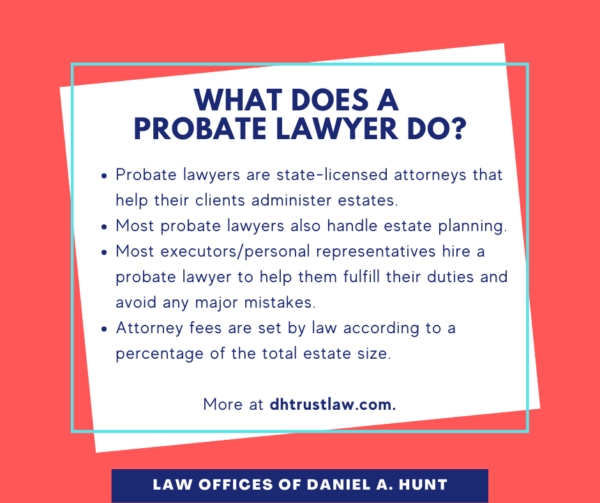 An estate must pass through the California Probate Court when a loved one dies without any estate plan, with only a will, or with valuable assets left outside of a trust. Probate can be confusing and overwhelming, leading many people to hire a probate lawyer to help them administer the estate. What does a probate lawyer do? Here's an overview.
What is a Probate Lawyer?
Probate lawyers are state-licensed attorneys who help clients navigate their role as estate executors (when the deceased person created a will) or personal representatives (when the decedent died intestate, meaning without a will). Many probate lawyers also assist their clients in creating estate plans. 
The California Probate process is complicated enough that even attorneys who practice in other areas of the law often seek the help of a probate attorney when administering an estate to help avoid any missteps.
What Does a Probate Lawyer Do?
A probate lawyer guides the estate executor or personal representative through the process from start to finish. Here are some tasks probate lawyers often help clients complete:
Preparing and filing petitions and any other needed documents with the probate court

Inventorying and collecting estate assets

Collecting proceeds from any life insurance policies

Dealing with retirement plans like IRAs and 401(k)s

Obtaining appraisals for the decedent's real estate and other high-value assets, and potentially selling those assets

Paying the decedent's final bills and other debts, and managing existing bank accounts.

Negotiating with any estate creditors

Handling any estate tax, income tax, or inheritance taxes due

Distributing the estate assets after receiving permission from the court
Since there are many steps involved with a probate proceeding, there are many opportunities to make a mistake. Estate representatives who make mistakes risk delaying the already time-consuming probate process, getting sued by estate beneficiaries, being removed from their position by the court, being ordered to pay back any estate funds lost, and more. That's why most people hire a probate lawyer to guide them through this process.
Do I Need to Hire a Probate Attorney?
There are certain situations where you may be able to handle a probate matter without the help of an attorney. You may be able to handle it on your own if:
You have experience administering estates

The estate is extremely small and can be resolved by filing a small estate affidavit

All family members get along well and agree on how the estate should be handled

The estate has no debt or creditors
However, most executors or personal representatives want the guidance of a probate lawyer. In high-conflict situations where litigation may ensue, it becomes even more wise to seek legal advice from an experienced probate attorney.
You should strongly consider hiring legal counsel if any of the following is true:
The will was poorly drafted and contained ambiguous language

There are more debts than assets in the estate

There are contested claims

There are creditors seeking the estate assets

There are multiple wills that have been discovered
How Much Does a Probate Lawyer Cost?
If you do hire a probate attorney, the cost for their services should be somewhat predictable, since probate fees are set by California statute. That means that probate attorneys charge for their services using a set fee structure that varies depending on the estate size. 
In California, the fees that should be charged by the attorney for estate administration are:

4% of the first $100,000

3% of the next $100,000

2% of the next $800,000

1% of the next $9 million

0.5% of the next $15 million

And a "reasonable amount" for estates over $25 million
Cost is just one of the questions you should discuss before deciding to hire a probate attorney.
Questions to Ask a Probate Lawyer
Before you hire a probate lawyer, you may wish to ask them the following questions first: 
Do you specialize in probate law? Look for an attorney who focuses on this area of the law.

Have you handled a case like mine before? For example, if you're in charge of a very large estate, you'll want someone who knows how to administer large estates.

Do you have experience administering estates in the county where the decedent resided? Each county's rules vary, so it helps to find a lawyer who frequently practices in the county where you'll be working.

What services will you provide as my attorney?

Will you be handling my case personally, or will another attorney be assigned to handle it?

Tell me about your fee structure. Since the fees are set by statute, if they want to charge something different, that should be a red flag.
If you have any questions about probate, feel free to contact our law firm. 
Law Offices of Daniel A. Hunt
The Law Offices of Daniel A. Hunt is a California law firm specializing in Estate Planning; Trust Administration & Litigation; Probate; and Conservatorships. We've helped over 10,000 clients find peace of mind. We serve clients throughout the greater Sacramento region and the state of California.