Welcome, Former Clients of Brad Siefker!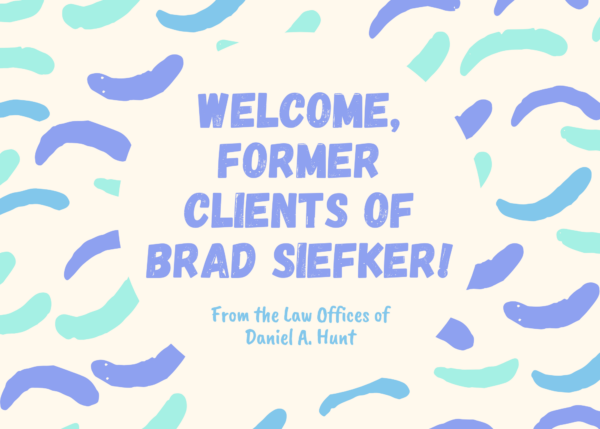 We have exciting news! As of March 22, 2023, the Law Offices of Daniel A. Hunt will be acquiring the former clients of now-retired attorney Brad Siefker.
Who is Brad Siefker?
Brad Siefker is a well-established Sacramento estate planning attorney whose former office is around the corner from our firm's Sacramento location on University Avenue. After nearly 40 years of practicing California law, Brad is retiring in 2023 and transferring his clients to the Law Offices of Daniel A. Hunt.
Information for Brad Siefker Clients
All former clients of Brad Siefker will be transferred to our firm on March 22, 2023. They can receive a no-cost trust review with one of our firm's attorneys if they schedule an appointment within 6 months of the transition (on or before September 22, 2023).
They will also have access to the same services we offer our clients, such as a reduced client rate on trust review appointments scheduled after September 22, 2023, and a no-cost consultation with the successor trustee(s) when a settlor passes away.
Visit our Resources page for access to our many free educational resources, like FAQs, videos, a Referral Hub, and more.
We are thrilled with the upcoming expansion! We look forward greatly to meeting our new clients and offering them a warm welcome to our firm family.
Law Offices of Daniel A. Hunt
The Law Offices of Daniel A. Hunt is a California law firm specializing in Estate Planning; Trust Administration & Litigation; Probate; and Conservatorships. We've helped over 10,000 clients find peace of mind. We serve clients throughout the greater Sacramento region and the state of California.