Remove Siblings from Deceased Parents' Home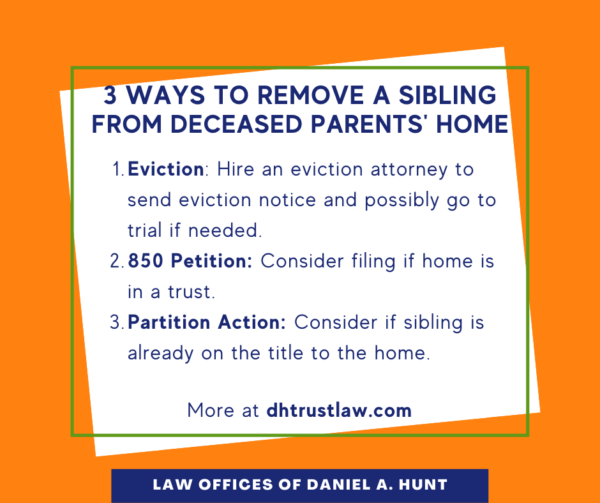 Distributing real estate after your parents die can get complicated if your family members disagree on what to do with their real estate. Maybe your sibling wants to live in your parents' home rent-free and refuses to leave, or you and your siblings disagree on whether to sell the home. Here's an introduction to how to remove siblings from your deceased parents' home.
Option #1: Eviction
One option to remove a sibling from your deceased parents' house is to start the eviction process. First, you need to hire an eviction attorney and have them prepare an eviction notice. This notice gives the sibling a certain period of time to vacate the property (for example, 30 days). 
If the eviction timeframe passes and the sibling has still not moved out, then a petition for unlawful detainer can be filed and a court trial may be scheduled. 
Evicting a sibling can be complex and is not a quick and easy solution. The court sometimes upholds the eviction. Other times they encourage the siblings to find a different solution that works for all parties, like establishing a rent payment plan or offering the sibling more time to move out of the home. Eviction can be a helpful tool, but there are other options too.
Option #2: File a Probate Code §850 Petition 
If the sibling refuses to vacate a property that is titled in a trust, the trustee may consider filing an "850 petition" (also known as a "Heggstad petition") in the California probate court. This petition takes its name from section 850 of the California Probate Code, "Conveyance or Transfer of Property Claimed to Belong to Decedent or Other Person".  
An 850 petition can be filed when a person holds and refuses to return trust property (in this case, a piece of real estate). By filing an 850 petition, the trustee is bringing a legal action to return the trust property to the trust so they can distribute it as outlined in the trust distribution.
The trustee can discuss this option with their trust administration attorney and seek legal advice. If an 850 petition is the best option given the circumstances, then your attorney can help prepare and file this document with the court. 
Option #3: File a Partition Action
What if you want to remove a sibling from your parents' home, but they're already on the title as a co-owner? We see this situation arise when a family home was already distributed in equal shares to multiple siblings who cannot agree on what to do with the property. Maybe one sibling lives in the home and wants to stay there, but the other two siblings want to sell the property and split the proceeds equally. 
In California, the "right to partition is absolute", meaning that any co-owner of a property may force the sale of the property by initiating a court-ordered division of the property known as a partition action. After a partition lawsuit is filed, anyone residing on the property will be removed and a partition referee will be assigned to market and sell the property.
Removing siblings from an inherited house after your parents' death can be stressful, emotionally draining, and frustrating. There are multiple strategies that can be effective and help you achieve your goal, so be sure to consult with an experienced trust and estate lawyer who can guide you to the best option for your circumstances. If you have any questions on how to remove siblings from your deceased parents' home, feel free to contact our law firm.
Law Offices of Daniel A. Hunt
The Law Offices of Daniel A. Hunt is a California law firm specializing in Estate Planning; Trust Administration & Litigation; Probate; and Conservatorships. We've helped over 10,000 clients find peace of mind. We serve clients throughout the greater Sacramento region and the state of California.