Registration Open: Preparing for Death from A to Z Webinar
A recent New York Times article stated that 400,000 more deaths than normal have occurred in the US since Covid-19. The pandemic has prompted many of us to reflect on the concept of mortality, both for ourselves and those we love.
So consider this: If you were gone tomorrow, can you confidently say that the transition would be absolutely seamless for your loved ones? That is the goal of our firm's upcoming no-cost webinar, "Preparing for Death from A to Z".
We're bringing together three industry experts on Tuesday, January 26 at 10:00 AM for a virtual event that will teach you how to prepare for death in three key areas: Finance, Funeral/Burial, and Estate Planning.
At this webinar, you'll learn:
How to structure your finances in consideration of your loved ones
How to plan ahead for funeral & burial arrangements and take the burden off your loved ones
Which estate planning documents EVERYONE needs, plus common pitfalls to avoid
Our featured speakers include Alex Brown (CPA/Financial Planner/CEO at Genovese Burford & Brothers); Brian Baker (Director of Family Services at East Lawn Memorial Parks & Mortuaries); and our firm owner Daniel Hunt.
If you have adult children who have yet to make any preparations for the future, this is an excellent webinar they can attend to get an overview of how to start the process.
Space is limited; register today!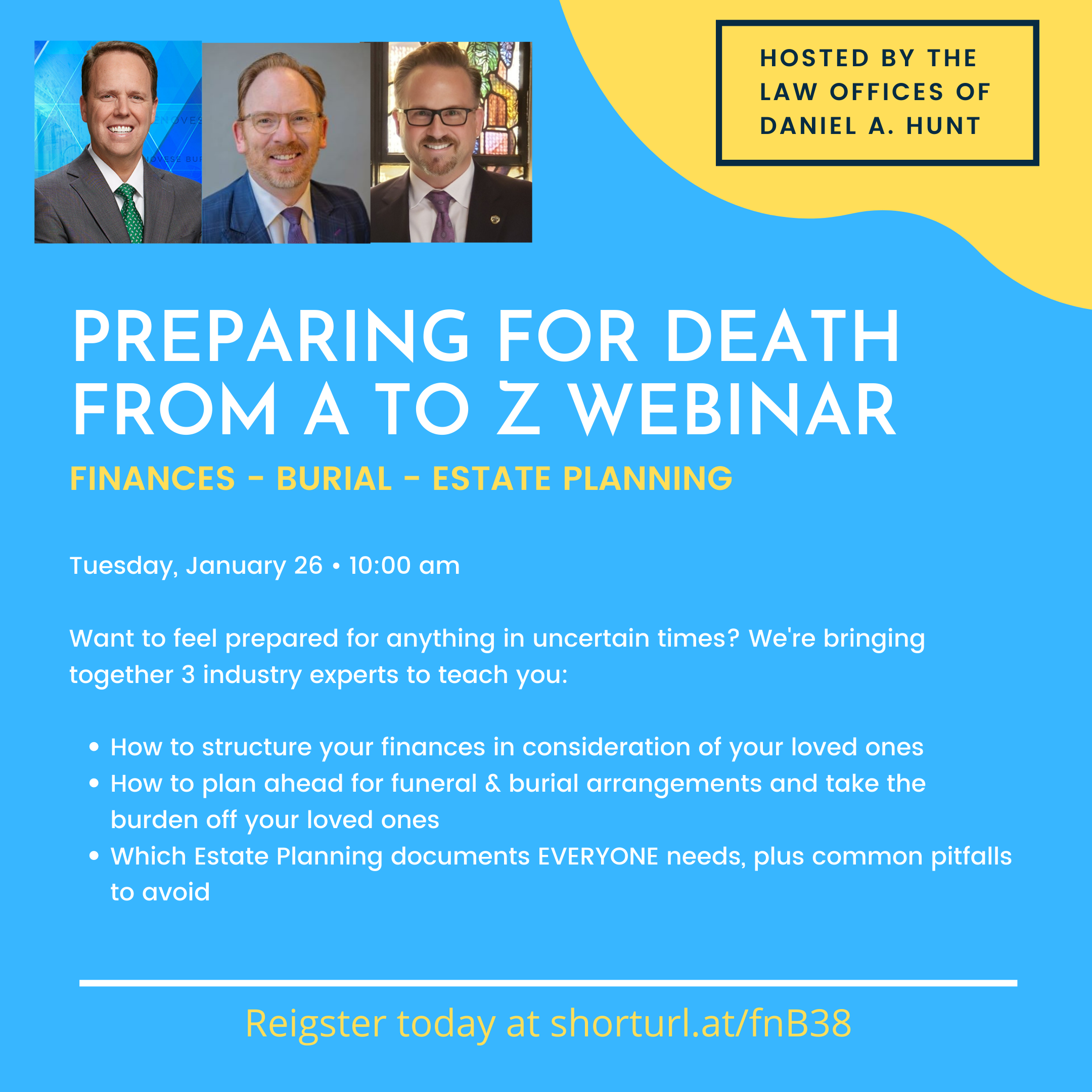 Daniel Hunt
Daniel Hunt is lead attorney and owner at Law Offices of Daniel Hunt. He is also a California State Bar Certified Legal Specialist in Estate Planning, Trusts & Probate Law.