How to Prove Power of Attorney Abuse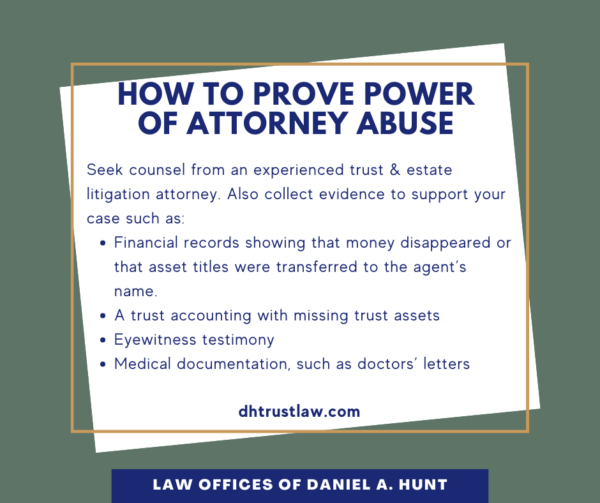 A Power of Attorney is a legal document that authorizes a person to act on another's behalf to handle financial matters. Unfortunately, this power is sometimes abused. If you suspect that someone is the victim of Power of Attorney abuse, you need to understand what it means and gather evidence that it's happening or happened. Here's how to prove Power of Attorney abuse.
Duties of a Power of Attorney Agent
The person who creates a Power of Attorney is called the "principal", and the person they name to act on their behalf is called the "agent". Agents carry a fiduciary duty, meaning a duty to act in the best interest of the principal.  
Here are a few of the duties of an agent:
Informing the principal of all activities they perform.

Keeping accurate records of all financial transactions completed on behalf of the principal.

Only acting on behalf of the principal in the specific capacities listed in the Power of Attorney document.

Keeping the agent's property separate from the principal's property.

Avoiding conflicts of interest, such as self-dealing transactions.
If the principal passes away or revokes the Power of Attorney, the agent cannot continue to act in this role any longer. 
What is Power of Attorney Abuse?
With that foundation in place, we can better understand how a Power of Attorney agent might abuse their power. When the agent violates their fiduciary duty to the principal or does not act in the principal's best interests, this may be Power of Attorney abuse. 
Here are a few common types of Power of Attorney abuse: 
Financial Exploitation: This typically involves the agent misusing the principal's financial assets that are under their control. When the agent spends the principal's money or sells the principal's assets for personal gain, they breach their fiduciary duty. 
Examples of financial exploitation might include an agent who treats themself to a new Mercedes using the principal's money or transfers the principal's home into their own name.
Fraud: Fraud is intentional deception to achieve unfair or unlawful gain, or to deprive a victim of a legal right. An example of fraud might include an agent who tells the principal they will invest their money in a safe, profitable venture, and then uses that money to salvage their own failing business. 
Theft: Just like it sounds, theft occurs when the agent steals money from the principal. Signs of theft may include withdrawals from the principal's bank account by the agent for their own purposes.
Agents Who Continue to Act Post-Death: All Powers of Attorney expire upon the death of the holder. If the agent intentionally continues acting under a Power of Attorney after the death of the holder, this could be an example of Power of Attorney abuse. 
An agent may steal from the estate by using their Power of Attorney after the holder's death to transfer the decedent's assets into their own name. Estate beneficiaries may not realize this has taken place until they discover missing assets during the trust or estate administration.
What To Do If You Suspect Power of Attorney Abuse
If you suspect Power of Attorney abuse or have noticed signs of elder abuse, you should immediately begin to gather evidence to build your case. Evidence may include:
Financial records such as bank statements showing that money disappeared or that asset titles were transferred to the agent's name.

A trust accounting from the trustee where known trust assets are missing.

Eyewitness testimony such as statements from people who observed signs of the financial abuse.

Medical documentation such as doctors' letters stating the POA holder's incapacity.
If the POA holder is still alive and you are a third party, you may wish to report the abuse to Adult Protective Services or law enforcement, depending on the situation. But first, discuss your concerns with an experienced elder law attorney. Things are not always as they appear from the outside, so seek counsel first before starting an investigation.
If you're a family member of the principal and/or a beneficiary of the estate, seek legal guidance as soon as possible from an experienced trust and estate litigation attorney for the best chance of recovering the missing estate assets. Your attorney can review your evidence and offer counsel on your next steps. 
If you have any questions about how to prove Power of Attorney abuse, feel free to contact our law firm.
Law Offices of Daniel A. Hunt
The Law Offices of Daniel A. Hunt is a California law firm specializing in Estate Planning; Trust Administration & Litigation; Probate; and Conservatorships. We've helped over 10,000 clients find peace of mind. We serve clients throughout the greater Sacramento region and the state of California.