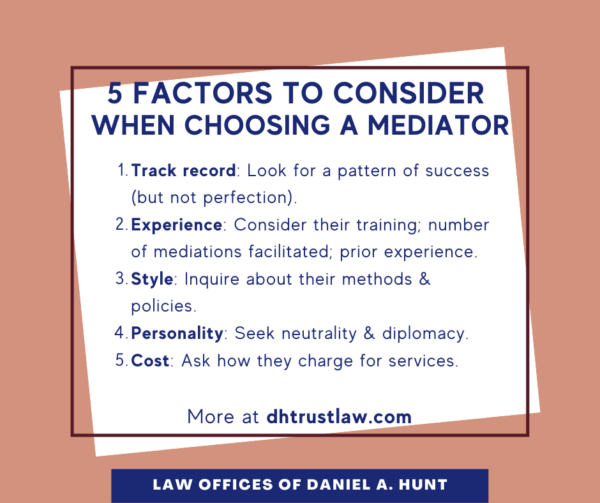 If you plan to try mediation in a contested matter, you'll need to work with the opposing party to select a mediator. A mediator serves as a neutral party who works with both sides to settle the case outside of court. If you're wondering how to choose a mediator, here are a few key considerations to keep in mind.
Where to Find a Mediator 
Both parties in a contested matter should have retained legal counsel. You might first consider asking your trust attorney for a referral to a mediator. Most experienced trust litigation attorneys have worked with a variety of mediators over the years and can provide mediator referrals. Our firm has several Sacramento mediator recommendations listed on our Referral Hub.
Another potential source for mediators is an Alternative Dispute Resolution service provider like Judicate West. Usually, these services offer a searchable database where you can find a mediator whose skill set best suits your needs.
Seek Input from Opposing Party
When choosing a mediator, be sure to seek input from the opposing party. When both parties trust and respect the mediator, there is a higher likelihood a settlement will be reached and accepted by both sides. You might wish to send the opposing party a list of several acceptable mediator options and ask them to choose from that list.
Factors to Consider When Choosing a Mediator
When looking for a mediator, you may want to interview prospective candidates and inquire about the following factors:
Track Record:

Inquire about the mediator's track record. Out of the mediations they have facilitated, how many have resulted in a settlement agreement? Don't look for perfection, as some situations truly are not reconcilable outside of court. But a successful mediator should be able to demonstrate an established pattern of settlements being reached.

Experience:

How long has the mediator been facilitating mediations? Did they receive formal mediation training, and if so, how long ago? Do they take continuing education classes? Are they certified, and if so, by whom? Before they worked as a mediator, did they have prior experience working as a Probate Court judge or a trust litigator?





Look for a mediator with an experience level that puts you at ease.

Style:

Ask your potential mediators to describe their approach to the mediation process. You might request that they share their values and goals in mediation, their confidentiality policy, and their ethical standards.





Ask if they tend to meet with all the parties together or do they "caucus" (meet alone with one side, then the other)? In what situations do they use strategy versus the other?

Personality:

Personality is another critical element in finding the right professional mediator. Mediation is a tense, stressful situation that is rife with conflict. Choosing a mediator with a cool temperament, a neutral and diplomatic personality, and sufficient emotional intelligence and empathy can make the process easier. Avoid choosing a mediator who comes across as impatient or ill-tempered.

Cost:

The cost for mediators may range from $200 to $1,000 per hour. The average total cost for mediation in California ranges from $3,000 to $5,000 per day, with most mediations finishing within one day. This cost does not include the attorney's fees each side will pay to their legal counsel for representing their interests during mediation.





Cost may not be the absolute most important factor when compared with experience and personality, but it is a factor to ask about ahead of time.
If you have any questions on how to choose a mediator, feel free to contact our office.
Law Offices of Daniel A. Hunt
The Law Offices of Daniel A. Hunt is a California law firm specializing in Estate Planning; Trust Administration & Litigation; Probate; and Conservatorships. We've helped over 10,000 clients find peace of mind. We serve clients throughout the greater Sacramento region and the state of California.