What is the HEMS Standard?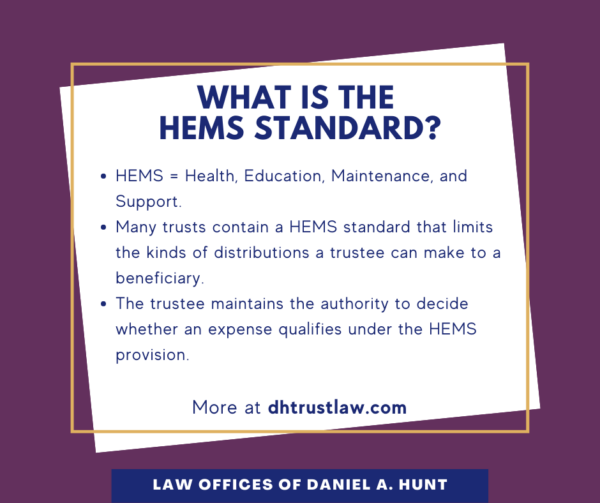 If you've created a trust, you may have heard of the HEMS Standard. This acronym stands for Health, Education, Maintenance, and Support. What is the HEMS standard and what does it mean for a trust?
What is the HEMS Standard?
Many trusts contain HEMS language which guides and limits the kinds of distributions that a trustee can make to a beneficiary. This can be especially useful when a trust beneficiary is young or financially inexperienced to prevent the irresponsible use of trust funds.
With a HEMS Standard, trust funds can only be used for specific needs tied to the beneficiaries' health, education, or living expenses. While health and education tend to be fairly straightforward, maintenance and support expenses can fall into more of a gray area.
This category allows a beneficiary to maintain their typical standard of living, or what the IRS calls an "ascertainable standard". Distributions in this category may include expenses that aren't strictly necessary, like a traditional annual family vacation.
Ultimately, the trustee maintains the authority to decide whether an individual expense qualifies under the HEMS provision. 
Examples of HEMS Distributions
If you're wondering what types of distributions may qualify under the HEMS standard, here are a few examples for each category.
Health
A few common examples of health expenses would include:
Routine doctor, dentist, and optometrist appointments

Hospital stay

Emergency medical treatment

Prescription drugs
Depending on the trustee's outlook, health expenses may even include the following:
Elective procedures (like plastic surgery or LASIK eye surgery)

Alternative medicine (like holistic doctors or treatments)

Gym memberships

Health supplements
Education
Education often includes:
Tuition for all levels of education

Technical education or career training

Living expenses like housing and food while attending university (including during breaks)

Books, computers, and other education-related supplies 

School-related programs, like a college Study Abroad
Maintenance and Support
"Maintenance" and "support" both belong to the same category, which often includes:
Housing costs, such as a mortgage or rent 

Property taxes

Insurance premiums for health, life, and property insurance

Travel and vacation expenses

Home or vehicle repairs

Continuing the standard of living to which the beneficiary is accustomed
Benefits of HEMS Provision
Adding a HEMS standard to your trust offers numerous benefits:
Peace of mind:

HEMS ensures that a young or financially irresponsible beneficiary won't mismanage a large inheritance.

Direction for Trustee:

HEMS offers clear instructions to the trustee about what kind of distributions to approve.

Estate tax benefits:

If the trust beneficiary is also the trustee, then the HEMS standard prevents trust assets from being included in their gross estate for federal estate tax purposes. In other words, trust funds wouldn't be subject to estate taxes.

Asset protection:

Limiting the Trustee to the HEMS standard helps to prevent any trust assets from being included in a divorce proceeding or lawsuit against the beneficiary. 
If you're interested in adding HEMS language to a trust, seek the advice of an experienced estate planning attorney. If you have any questions about this topic, feel free to contact our law firm. 
Law Offices of Daniel A. Hunt
The Law Offices of Daniel A. Hunt is a California law firm specializing in Estate Planning; Trust Administration & Litigation; Probate; and Conservatorships. We've helped over 10,000 clients find peace of mind. We serve clients throughout the greater Sacramento region and the state of California.