Free Webinar: Introduction to Trust & Estate Mediation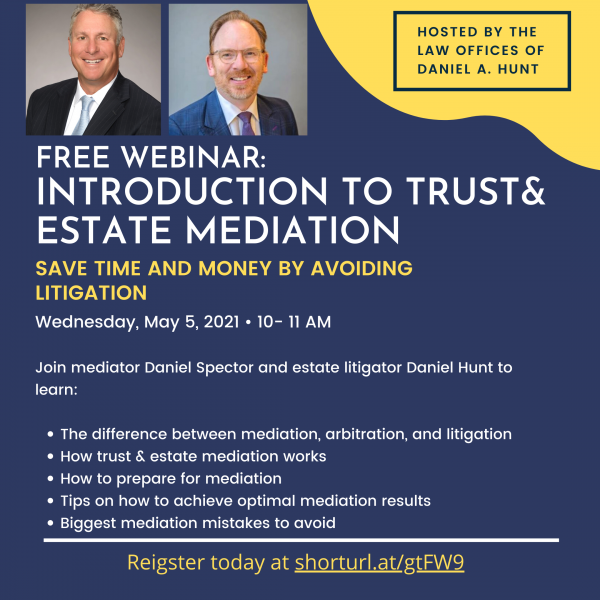 At the Law Offices of Daniel A. Hunt, we constantly strive to create valuable educational content for our clients and the public. Our next free webinar will be an Introduction to Trust & Estate Mediation, held on Wednesday, May 5, 2021, at 10 AM. If you're considering or have already committed to mediation, this is the perfect chance for you to learn how to get optimal results.
What is Mediation?
When conflict arises in a trust administration, some trustees and beneficiaries try mediation before or instead of filing a formal lawsuit. Mediation is a form of alternative dispute resolution (ADR) that provides a way to privately resolve the conflict outside of a public court proceeding. Many people try mediation because it tends to be quicker and less expensive than an expensive formal lawsuit.
How does it work? Mediation is an informal arrangement in which a neutral third-party acts as a mediator between the two (or more) conflicting parties. Each party attends a scheduled mediation with their attorney (if they have retained one) and presents their side. The mediator offers suggestions to help resolve the dispute.
What You'll Learn
At this no-cost virtual event, you'll learn:
The difference between mediation, arbitration, and litigation
How trust & estate mediation works
How to prepare for mediation
Tips on how to achieve optimal mediation results
Biggest mediation mistakes to avoid
Webinar Speakers
Our webinar speakers include two professionals with extensive mediation experience. They are:
Daniel Spector: Professional Mediator/Arbitrator at Judicate West
Daniel Hunt: Certified Legal Specialist in Estate Planning, Trust & Probate Law; Trust & Estate Litigator and Owner at Law Offices of Daniel A. Hunt
UPDATED: Registration for this webinar has now ended. Click here to view a recording of this webinar.
Law Offices of Daniel A. Hunt
The Law Offices of Daniel A. Hunt is a California law firm specializing in Estate Planning; Trust Administration & Litigation; Probate; and Conservatorships. We've helped over 10,000 clients find peace of mind. We serve clients throughout the greater Sacramento region and the state of California.