What is an anti-isolation restraining order?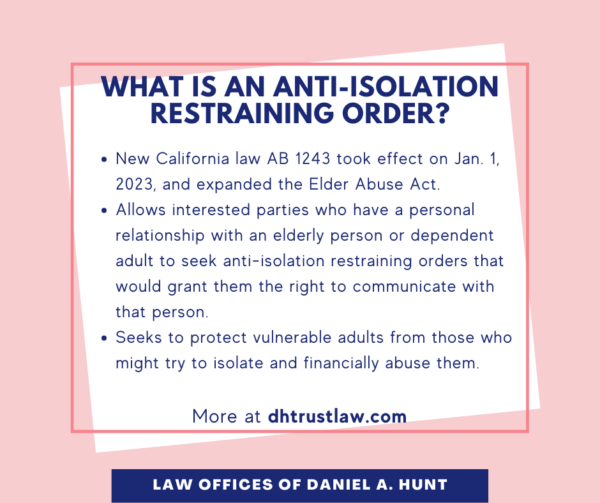 What is an anti-isolation restraining order? Under a new California law, family and friends can seek anti-isolation restraining orders that allow them access to an elderly person. AB 1243 will help protect elders from those who might try to isolate and abuse them.
What is California Assembly Bill 1243?
On Sept. 23, 2021, California Gov. Gavin Newsom signed Assembly Bill AB 1243. This new law, which took effect on Jan. 1, 2023, expands the Elder Abuse Act. It allows interested parties who have a personal relationship with an elderly person or dependent adult to seek anti-isolation restraining orders that would grant them the right to communicate with that person. 
This means that family members and friends will now be able to bring a petition to enable them to maintain contact with an elderly person. Previously, the only parties allowed to seek protection under the Elder Abuse Act for protective orders were the elder or dependent adult, their conservator, their trustee, or an attorney-in-fact acting within their authority.
Purpose of AB 1243
The Legislature found that some elder abusers took advantage of the isolating circumstances of the pandemic "by preventing trusted friends and family members from seeing or contacting a vulnerable adult."
The purpose of the new law is to ensure that "these vulnerable adults are able to maintain important familial and social connections that they desire, and that a perpetrator does not cut off those relationships in an attempt to take advantage of the vulnerable adult."
AB 1243 also will permit judges to determine whether "specific debts" were the product of elder abuse, although to seek damages would require litigation and a trial.
Who Can Seek an Anti-Isolation Restraining Order?
In order to seek an anti-isolation restraining order under AB 1243, you must be an "interested party" which the new law defines as a person who has a "personal, preexisting relationship with the elder." You could establish your standing with a description of past involvement with the elder, time spent together, and any other proof that you have spent time with the elder. In addition to family members, even a friend or neighbor may have standing to seek an anti-isolation order.
To obtain an anti-isolation restraining order, the petitioner must produce evidence showing that:
The respondent repeatedly prevented contact by the interested party with the elderly person;

The elder or dependent adult expressly desires contact with the interested party; and

The isolating acts are not in response to actual or threatened abuse or the elder's own desire not to see the interested party.
Finally, you will not be able to seek an anti-isolation order if the elder resides in a health, residential or long-term care facility, as those terms are defined by law.
How to Seek an Anti-Isolation Restraining Order
The process for seeking any form of elder abuse restraining order, including an anti-isolation order, is described on the self-help page of the Judicial Council's website. The steps are:
The interested party fills out a court form called

California Judicial Council Form EA-100

. 

File your court forms with the court.

Serve your papers on the respondent (the person preventing you from contacting the elder).

Prepare for and attend your court hearing.
Petitions generally are to be heard within 25 days of when they are filed, but the parties may request a continuance of the hearing date. Anti-isolation orders may only be issued after notice to the respondent and an opportunity for the respondent to be heard.
If the judge grants your petition, they can also order specific activities to be allowed or forbidden; for example, the respondent may be barred from preventing in-person, online, and/or telephone contact between the petitioner and the elder.
Once issued, the restraining order may last for up to five years, and after that, it may be renewed. The prevailing party (either the petitioner or the respondent) may be awarded legal fees at the court's discretion.
If you suspect that an elder may be a victim of intentional isolation and/or financial abuse, feel free to reach out to our office.
Law Offices of Daniel A. Hunt
The Law Offices of Daniel A. Hunt is a California law firm specializing in Estate Planning; Trust Administration & Litigation; Probate; and Conservatorships. We've helped over 10,000 clients find peace of mind. We serve clients throughout the greater Sacramento region and the state of California.