Advance Directive vs. Do Not Resuscitate Order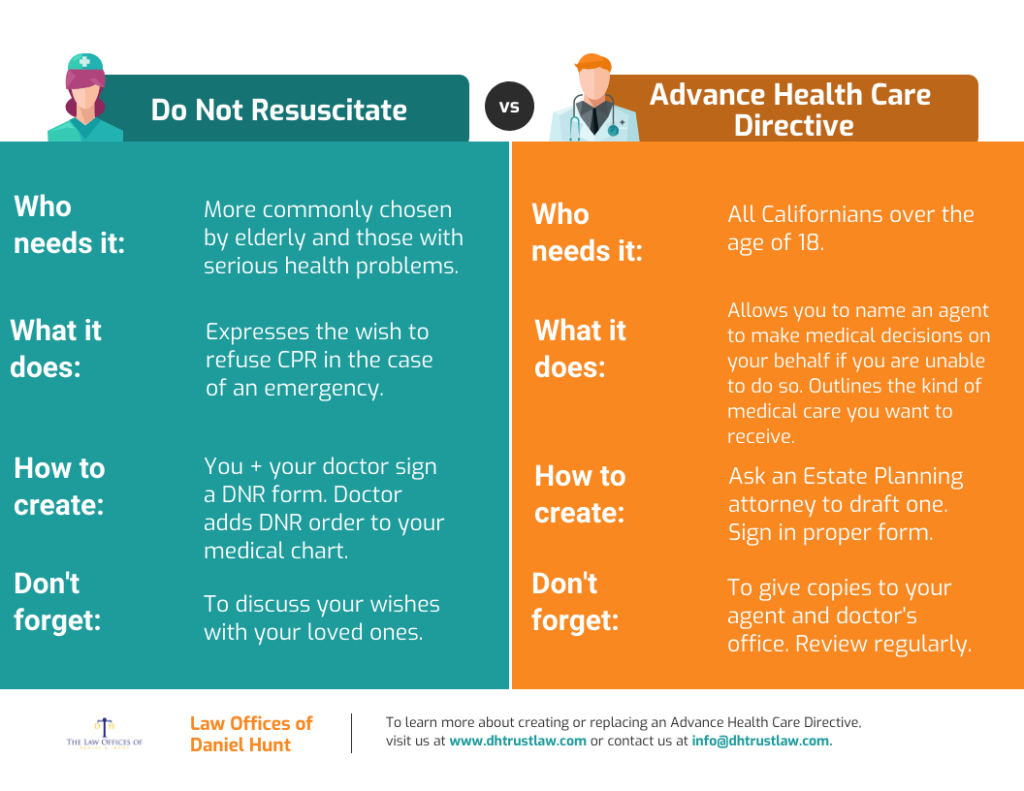 What's the difference between an Advance Healthcare Directive and a Do Not Resuscitate (DNR) order? We frequently hear confusion from clients between these two terms, which both pertain to end-of-life choices. In this post, we will explain the difference between an Advance Healthcare Directive ("AD") and a Do Not Resuscitate ("DNR") order.
What Is a Do Not Resuscitate (DNR) order?
A Do Not Resuscitate (DNR) order is a request not to have cardiopulmonary resuscitation (CPR) if your heart stops or if you stop breathing.
By law, emergency medical service professionals are required to administer life-sustaining treatments like CPR to patients. This makes sense, as most young, healthy people would want their lives preserved if possible.
Why Create a DNR Order?
However, people who are terminally ill or very frail due to advanced age may wish to avoid resuscitation efforts.
Here are a few reasons why:
CPR doesn't always work to resuscitate people, or "bring them back." The older and sicker they are, the less likely it is to work.
If CPR does "bring them back," they will still have their chronic illness plus the new problems that led to needing CPR.
Pressing on the chest during CPR often breaks the person's ribs.
People who do survive after their heart has stopped may have brain damage. This can affect their ability to talk, recognize loved ones, dress themselves, or manage their bathroom needs.
Who Needs a DNR Order?
Not everyone will want to instate a DNR order. It is more common amongst the elderly who may feel satisfied with the life they have lived, especially if they have serious health problems. Patients who are less likely to benefit from CPR include:
People who have experienced a severe stroke
People with metastatic cancer
People who have been hospitalized for severe infections (like pneumonia)
People with low kidney function
If you already have one or more of these conditions, you should discuss your wishes about CPR with your physician and loved ones. It's best to do this early, before you are too sick and are considered unable to make your own decisions by your doctor or your loved ones.
How to Create a DNR Order
If you decide you don't want to receive resuscitation, you can fill out a DNR form (aka POLST form). You will need to have your doctor sign the form and put a DNR order on your medical chart/record.
Make sure your loved ones understand your wishes so they can advocate for you in an emergency. You can also keep a copy of that form on your person to avoid receiving this care from medical staff or first responders.
What Is an Advance Healthcare Directive?
An Advance Healthcare Directive ("AD", aka Power of Attorney for Healthcare) is a California legal document that outlines your end-of-life preferences. It also allows you to name an agent to make medical decisions on your behalf if you become incapacitated.
Why Create an Advance Directive?
In addition to designating an agent (and as many alternative agents as you desire), an AD will give direction pertaining to end-of-life decisions. If you don't make your wishes known with an AD ahead of time, your doctor and family members may face some tough decisions.
An AD typically allows you to express your desires about:
Life support: This includes how long you want to remain on life support if you are in a permanent coma and how many doctors should be consulted concerning your condition.
Pain medication: This includes whether you want to receive medication for pain relief, such as morphine, that may hasten your death.
Organ donation: This includes whether you want to donate your organs, which ones, and for what purposes (education, transplant, etc.).
One important element of an Advance Directive is a HIPAA (Health Insurance Portability and Accountability) waiver. If you already have an AD, be sure that your document includes a HIPAA waiver so your agent will have access to your medical history. Otherwise, they may one day need to make decisions concerning your medical care without critical, relevant information.
Newer documents created after 2010 should have a HIPAA waiver. Older documents do not and will need to be replaced.
Who Needs an Advance Directive?
Every person over the age of 18 needs an Advance Directive. We may think that medical crises only happen to the elderly, but the truth is that accidents happen to people of all ages. Be sure that everyone in your family over the age of 18 has an Advance Directive in place.
How to Create an Advance Directive
The best way to create an Advance Directive is to have an experienced estate planning attorney create one on your behalf. Most hospitals will also have generic Advance Directive forms available.
Your AD will need to be witnessed and signed by a Notary Public OR by two adult witnesses who meet the legal requirements to serve in this role. In California, your witnesses may NOT be:
A healthcare provider or employee of your healthcare provider
The operator or an employee of a community care facility
The operator or an employee of a residential care facility for the elderly
The person you have appointed as an agent
After you sign your AD, keep the original in a safe but accessible place. Make copies for your agent(s) and make sure you bring or send a copy to the hospital or your doctor's office to be put on your medical record. California also maintains an Advance Directive Registry. As an optional additional step, you can pay a minimal fee and file your AD with the Secretary of State.
Updating your Advance Directive
Review your AD from time to time. You may want to re-evaluate or replace it if:
You receive a serious diagnosis
You get married, separated, or divorced
Your spouse dies
Something happens to your agent
Your preferences change
To sum it up, an Advance Healthcare Directive and a Do Not Resuscitate order are two important but distinct documents.
An AD is necessary for all adult Californians. This document allows you to name an agent and express your wishes regarding pain medication, life support, organ donation, and other end-of-life decisions. See an estate planning attorney to create or update an Advance Directive.
A DNR order, on the other hand, may be appropriate for elderly people with serious health conditions who do not wish to receive CPR in the case of a medical emergency. Talk to your doctor for more information about creating a DNR order.
If you need to create or update an Advance Healthcare Directive with our firm, feel free to contact our law firm.
Law Offices of Daniel A. Hunt
The Law Offices of Daniel A. Hunt is a California law firm specializing in Estate Planning; Trust Administration & Litigation; Probate; and Conservatorships. We've helped over 10,000 clients find peace of mind. We serve clients throughout the greater Sacramento region and the state of California.